Attention: Join our guest blogging contest here.
The exciting thing about our platform is that we have to deal with a lot of various content (marketing) tactics: We are trying to help our authors to come up with more effective content strategies, we are strongly recommending them using images and media to make their articles easier placed and promoted, we are doing our best to help promote their guest posts as well as track the impact.
Whenever we see the opportunity, we build a tool or a resource for our community to use. This way, a few standalone tools you know have been born:
MyBlogGuest Tracker that helps you monitor removed content, nofollowed links or evaluate the traffic from each guest post you place;
Smart Photostock: The free resource of images to make your (guest) posts more sharable;
Viral Content Buzz: The free tool to get some extra social media love for your
@myblogguest This is awesome, thanks. Loving the Smart Photostock. #MyBlogGuest

— TL Affiliates (@TLAffiliates) March 21, 2013
Now, we are not stopping there, and today we are introducing our collection of free social media tools:
There are currently three tools inside.
1. Twitter chat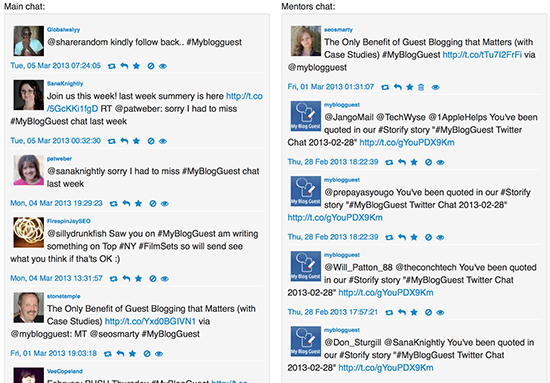 This one was built specifically for our weekly chats to give you a more convenient way to track conversations here.
Bookmark: MyBlogGuest Twitter chat room at TwChat
Switched over to Twitter chat … Ann, you're my (only) mentor! #myblogguest

— Don Sturgill (@Don_Sturgill) March 21, 2013
There are a lot of improvements ahead, but so far you can:
Track "Mentors" easier (these can be chat organizers, "special" guests, etc)
Easily tweet and retweet to the chat
Easily follow fellow participants
"Feature" selected users (if you want their tweets highlighted) and block other users (you don't want to hear from)
See media (images and videos) in-line without ever leaving the room!
very cool interface at twchat dot com #myblogguest

— Deborah (@socialwebcafe) March 21, 2013
Because of some limitations of Twitter search API, web-based chat is a bit slower than Tweetdeck, but we are kind of used to be at different paces here.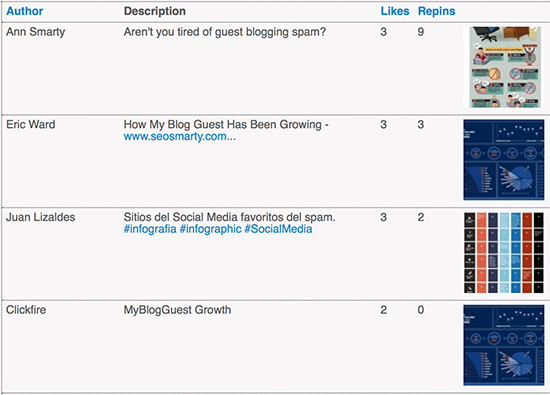 Because we have Infographics gallery and Pinterest promotion integrated in Viral Content Buzz, we think it makes perfect sense to give you an ability to track your images being pinned!
Simply provide your domain and the tool will track images which are being pinned from it!
3. Blog / URL Social Media Activity Analyzer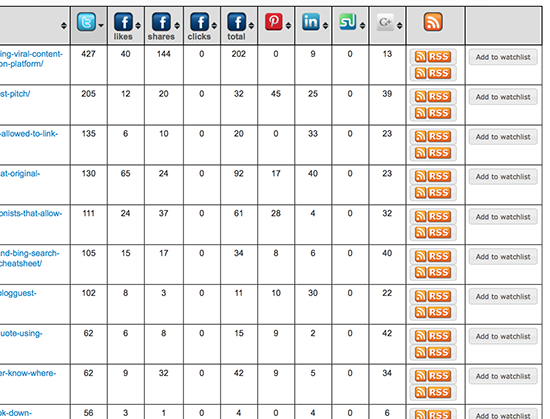 This one is the latest addition: If you have been lucky enough to grab an absolutely awesome guest post (and especially if you are promoting it using Viral Content Buzz), track the social media activity using this tool.
@seosmarty Sounds like a plan! Really liking this chat. Didn't realize the depth of tools and resources you offered. #myblogguest

— Helen Hoefele (@figmentations) March 21, 2013
None of these tools are complete. We are still working hard, but we are giving them away for you to take advantage while we are still working!
If you enjoyed this article, Get email updates (It's Free)
Ann Smarty is the founder of MyBlogGuest. Feel free to contact her if you have any questions about the platform.