To participate in our Twitter chat please sign in here every week, Thuesday, 11 am EDT =>MyBlogGuest Twitter chat
The reason why we are guest blogging is because we seek to build the community (at the very least that's why we *should* be guest blogging). One of the most efficient ways to build the community, traffic and leads through guest blogging is to follow up and interact with people who share your guest posts.
Here's how you can be doing that!
1. Twitter: Topsy
Topsy is a great way to search Twitter by domain or URL. Just put your guest post URL in the search box, select "Link" and search. It will pull out the list of tweets containing that URL. If you sign in to Topsy using Twitter auth, you can also favorite or retweet any Tweet in the list:
I strongly suggest you go ahead and click through each Twitter user that has mentioned your URL to follow him / her as well as thank them personally. That's the best way to build up your Twitter connections!
Topsy is also offering a separate tab for influential mentions (this tab contains tweets that have your guest post link and that originate from Twitter users with huge following). While I never recommend focusing on influencers only (given the "growing together" concept that we are preaching), this tab will give you some insight into high-profile users who are willing to interact with your content.
totally agree on not solely focusing on influencers – it's those lower on the totem pole that will beat your drum the loudest! #myblogguest

— Craig Fifield (@CraigFifield) November 14, 2013
How is it different from Twitter search? – Apart from the aforementioned influencer research, Topsy considers Twitter Retweets as separate tweets, so you won't miss people who interact with Tweets that mention your guest posts (are you still following? :)) giving you the ability to interact with them too!
short on time? Topsy will show you the influencers to thank #myblogguest

— Craig Fifield (@CraigFifield) November 14, 2013
2. Google Plus: Ripples
Ripples is the newer Google Plus feature that visualizes the Google Plus activity around any URL. It's not easy to find ripples unless you have just recently shared your guest post and can locate it on your Google Plus dashboard.
Comments and shares, not +1s RT @myblogguest: Ripples is the newer G+ feature that visualizes the G+ activity around any URL #myblogguest

— Ann Smarty (@seosmarty) November 14, 2013
Luckily, there's a handy bookmarklet courtesy of @ajkohn that you can drag to your browser bookmarks toolbar. When on your guest post page, click the bookmarklet and it will take you to the Ripples page.
Now just click any circle, thank for the follow and add that person to circles!
3. Pinterest: Google Image Search
We highly encourage guest authors to use images within guest posts for many obvious reasons: Images add visual appeal (which both increases approval rate and results in more interaction with the published guest post); Images make social shares more interactive (thanks to the thumbnail that ends up to be shared on Google Plus and Facebook); Images open up your guest post to more social media channels (like Pinterest)
https://twitter.com/OLSMNC/status/401026324732456960
@OLSMNC I had never had huge success with Pinterest tools for some reason… can @pinerly track images being shared? #myblogguest

— Ann Smarty (@seosmarty) November 14, 2013
Pinterest is not making it easy to track down all shares containing one particular image. Here's my own workaround:
Install the browser plugin to easily access Google reverse image search (I am using this one for FireFox)
Search for the image you used in the guest post using that plugin
Add Pinterest to the search box
Click "More sizes"
See the list of pins containing your image that got indexed by Google
[Step 1]
[Step 2]
That might be a very limited approach but that's the only one I could come up with.
4. Tracking the Numbers
Tracking how well each of your guest post has been performing in social is very important for:
Identifying best-performing topics
Identifying best blogs that result in more interactions (to contribute more for them!)
Next: Find best-performing topics and best blogs that result in more interactions (to contribute more for them!) #myblogguest

— Ann Smarty (@seosmarty) November 14, 2013
Here are the two tools you can try:
Social Activity Analyzer from Viral Content buzz labs
Add your guest posts to "Watchist" to watch their social numbers over time. Pro tip: Use that watch list to re-share your older guest posts for more traffic and interactions.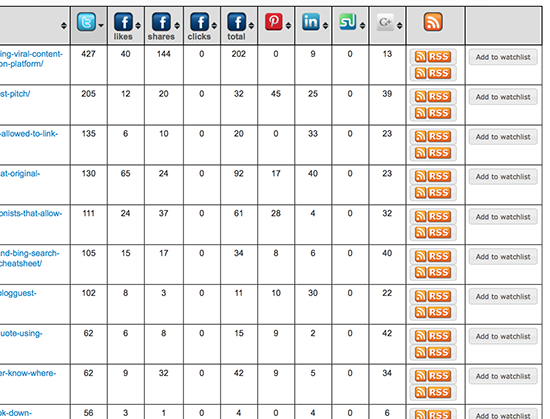 Social Signals + Authorship tool
Copy-paste your list of guest posts (you can export them from MyBlogGuest "My Articles" section) and let the tool find social numbers for each of them as well as verify if your Google authorship is working on each:
Note: We are working to improve social signals reporting in MyBlogGuest too, so you'll soon see those numbers in "My Articles" section too!
Have fun analyzing (and improving!) your social signals! P.S.: you can use Viral Content Buzz to improve them!
Next week, same time, same day we'll talk about ALL #myblogguest social media initiatives (that's going to be a LOT to talk about!). Subscribe to twitter chat summaries here.
If you enjoyed this article, Get email updates (It's Free)
Ann Smarty is the founder of MyBlogGuest. Feel free to contact her if you have any questions about the platform.